A Minecraft Server is centrally located and allows players to connect and play in multiplayer mode from the server computer. Each server has its own virtual world, its own community and it provides a gaming environment with unique rules. You can find many Minecraft servers, these servers serve as the gateway to the Minecraft multiplayer world.
The main difference between these Minecraft Servers available online is the game mode and the number of players involved.
It is important to know that when a player joins the servers installed by other players, he has no control over the game setup. The server owner has complete control over the game, and can impose certain restrictions on players joining the server. There are different Minecraft server types to consider, so sit back and enjoy our free resources to learn more.

If you want to enjoy a true customized exposure of the game, you need to configure your Minecraft server. By hosting Minecraft Server, you will have full control over your virtual realm, and you can also control the players who join your server. Setting up your own Minecraft Server is a fun task, and this article will help you learn the basics of Minecraft Server.
If you want to host a server that is easily accessible and can entertain a large number of players, choosing to rent a Minecraft server may be a good decision. Rental Minecraft servers are forever accessible and have powerful computing capabilities to provide a massive multiplayer gaming platform for Minecraft users. Dedicated servers are especially suitable for Minecraft multiplayer gaming.
Hardware Requirements
Whether you want to set up your own Minecraft server, or you want to rent one from the internet, you need to consider a few important requirements including, hardware, setup, server security, maintenance and up-gradation. You will have to ensure that you have all things in place before inaugurating your Minecraft server for the public. If you want to configure your server on your local computer, you can do so in a few hours if you have all the required hardware.
• Operating System
Microsoft Windows and Linux are two popular platforms for web hosting. You can choose one of these two OS for your Minecraft server. Both Windows and Linux can provide you with all the necessary functionality for server setup, there are some differences that you can consider when deciding which one to choose for your server.
• Linux
Linux is free and doesn't require a licensing fee like Windows. There are plenty of open-source applications available for the Linux OS. Linux is considered the most secure operating system due to its security features. Your data will remain more secure and protected in Linux as compared to the Windows. This versatile platform has a large user base and also supports the cloud platforms.
• Windows
It is the most used platform for the Minecraft Server. The most important thing about Windows is that you have access to all licensed tools including web development and networking, which are very useful if you choose Windows as your server. Its user-friendly interface makes it a better choice for the beginners.
•  CPU
CPU plays a very important role in setting up a good Minecraft server. Always choose a server with maximum clock speed with high cores and threads. For a small server with limited number of players, 2.8GHz octa-core processor will work perfectly fine for you, but if you want to run a large scale server with low processor, the server will start to lag. If you want to try special Minecraft projects like bigger modpacks such as SkyFactory 4 and StoneBlock, your server should have the ability to handle the bigger mods. Your system should have a minimum 2.8GHz dual-core processor that can handle the Minecraft gameplay, without sacrificing the standard graphics.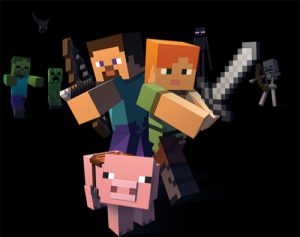 • RAM
RAM depends on the type of servers you want to set up. If you want to play standard Vanilla servers from 1.8.1 and 1.8.2, 2GB RAM can be enough to handle the server, but if you want to add modpacks like Yogscast and Life in the village then you must have higher RAM in your system. The RAM is basically used for three main things including plugins, mods, and number of players on the server. The modpacks and number of players consume the most part of your RAM. It is recommended to use minimum 4GB RAM for your system to set up a server. Learn more about setting up a Minecraft server here.
• Network Requirements
There are certain network requirements to host a server for Minecraft. You need to have a high-speed internet connection with a static IP address. You can get high speed internet connection with static IP from any hosting provider. Your server should be fast enough to upload the game quickly for better gaming experience. You need to setup network with appropriate routing for the player connections. For a perfect server, the uploading speed should be at least 10MB/S, which means you need to have a minimum of 100MB internet connection. If you use low internet connection for your server, it will not be able to support all players and cause your server to lag.
• DDoS Protection
If you want to host your Minecraft server on your computer, you will have to give out your IP to the other players who want to join your server. This can expose your home network to the other players, and make your network accessible to Distributed denial-of-service (DDoS) attacks. DDoS is a type of attack that has multiple adverse effects on the server. It is exceptionally imperative to discover whether your network has DDoS protection. If you don't have a DDoS protection for your home network, it is necessary to arrange and install it before launching your server online.